Congratulations to Mr. Carey and our 4th Grade Choir. They did an amazing job perfoming The National Anthem at the Mariner's game on May 14th. We heard very positive comments from a variety of people after the performance. Way to go Black Bears!!!
_________________________________
All library books are due back to Mrs. Erickson by Friday, June 3.
**********************************
Black Bear News
We will begin our state Smarter Balanced testing on Monday, April 25. Students will be testing in their classrooms this year. This testing is for our students in grades 3-5. Please make sure your student is getting plenty of rest and a good breakfast. Snacks will be provided for the children on testing days. Please contact your child's teacher with any specific questions you may have.
****************************
With the warmer weather on the way, please take a few minutes to review the dress code outlined in our student handbook.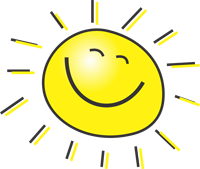 _____________________________________
No School-Memorial Day
Monday, May 30
Last Day of School
Tuesday, June 14
Dismissal at 11:25 a.m. (No lunch served)
*******************************
DROP OFF AND PICK UP
PLEASE REMEMBER OUR PROCEDURES FOR DROPPING YOUR CHILDREN OFF IN THE MORNING (in the front of the building only) AND PICKING UP IN THE AFTERNOON (please park and walk to the sidewalk so the paraprofessionals can see you). Following these procedures helps this time to run more smoothly and keeps our students safe. Thank you!
******************************************************
Mileage Club
Mileage Club began on Wednesday, September 2nd. It was great to see all the children out walking, running and enjoying time together. I hope we see more children participate each week. Please make sure your child wears appropriate shoes on Mleage Club days.
Pop Tabs
Update: We have already filled SEVEN containers. Way to go! Keep collecting and bring them in.
We will once again be collecting the tabs from the tops of aluminum cans. Those tabs are then donated to the Ronald McDonald house for recycling to help with the costs of supporting families with children battling illnesses. This is a great, easy way for our students to help other children. We collected a great deal of tabs last year. It is my hope for us to collect even more this year. Children can bring the tabs to our office at any time and we wil put them in our storage containers.